Thanksgiving is coming, get your brand invited to Hispanic homes
Nov 16, 2023
Día de Acción de Gracias or Día de Dar Gracias are the Spanish names for which the celebration of Thanksgiving is known to Hispanics in the U.S. This is a holiday non-existent in their countries, but that has become a part of their traditions, mainly because it is a federal holiday, but also because the spirit of gratitude and togetherness that are at the heart of the date resonate with their cultures. They have, however, enriched it with their flavors and customs in a unique way.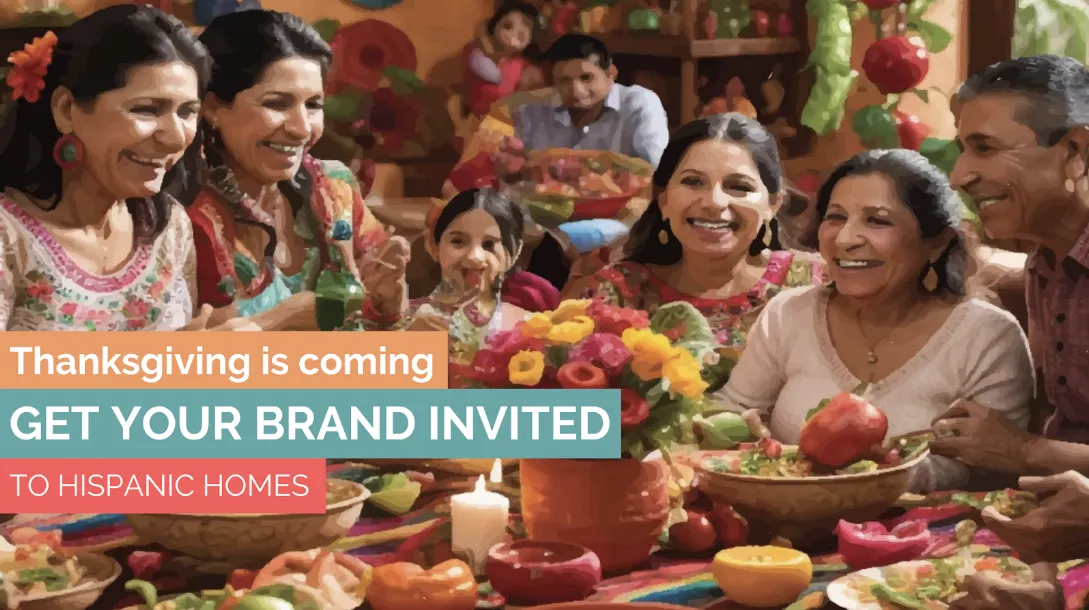 So, if you want your brand to get invited to the table to commemorate the action of "giving thanks" in Hispanics homes, here are a few things you should consider:
Thanksgiving dinner a la Latinx.
The traditional dishes are fashioned with ingredients and spices from their original countries, when not changed for other delicacies customary in other celebrations. Different turkey fillings and seasonings, like chorizo or pork; different rice versions instead of mashed potatoes; and even carnitas (Mexican slow-cooked pork), tamales, pastelón, mofongo, and more are served throughout the late dinner. And for dessert, the pumpkin pay is set aside for sweets like flan (a vanilla creamy custard) or churros to delight the guests.
TIP TO GET INVITED: Share with your audience recipes for Thanksgiving that embrace the cultural additions to the table. Delicious foods are always welcome at a Latinx table.
A day to say thank you for those who you really care about.
Since the historical background of Thanksgiving does not have roots in the Latin American cultures, a point of connection lies in the pure action of Dar Gracias, give thanks. For Hispanics, the value of family is one of the most significant, therefore, the holiday inspires feelings of union and gratitude. This is so profound that it may even have a religious expression for some communities.
TIP TO GET INVITED: Focus your messages on the communion of loved ones during the Holiday. Do not forget that your images should show the same idea through families and friends coming together.
Music is better to celebrate than Football.
For Hispanics, football is not as exciting as a good party with Latin rhythms. And this is how Thanksgiving may turn into a joyful night of dancing. From bachata to rancheras, Hispanics sabor comes alive to celebrate.
TIP TO GET INVITED: Create a playlist with Latinx favorites and share it in your social media. You can have options for setting the mood during dinnertime and a fun one that gets the party started.
It is no secret that the Hispanic spirit turns every Holiday into a party where family and friends get to enjoy a delicious meal and dance. This is the case for Thanksgiving, when getting in sync with the cultural fusion that takes place is the best way to be a part of this event.
Don't miss the chance to show your appreciation for your customers with integrated marketing activations that show you care and understand their specific needs. Let us show you all the alternatives that NeoSol services offer to get it done!
Click here to learn more - https://neosolcorp.com/neosol-services